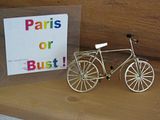 The time is very short-I will be departing for France from Seattle on August 17. I'll begin riding PBP on August 22 at 5 AM (about 1 PM Mountain Daylight Time) Anybody who wants track my progress can do so by clicking
HERE
and typing in Frame Number 8285
My last home brevet was completed on August 6, 2011. The Tobacco Root Mountains 300K was successfully ridden by Ken Billingsley, Karel Stroethoff, and myself. Ken and Karel rode very strong. Their fitness is without question. Both are poised to have great PBP's. As for me...the less said about the ride the better. I didn't feel well, I didn't climb well, and I finished almost two hours behind my colleagues. I guess if there's any silver lining it's that I rode with a full PBP load and still finished with over four and half hours to spare.
The month of July was pretty traumatic, first finding out that my Mom (and loyal brevet volunteer) has pancreatic cancer, and later on dealing with the loss of my 90 year old grandmother. All of a sudden cycling is on the back burner.
Mom is under the best possible care at Virginia Mason Hospital in Seattle and shuttling back and forth from here to there between treatments. She's one of the toughest people I know and will fight hard! Grandma's passing was not unexpected, but it was still hard on all of us, and it did impact my training a bit. I come from a very large family. Dozens of relatives came in from all over the country for the funeral-which mean't some family gatherings and lots-o-lots of food! Given my appetite is on overdrive anyway as a result of all my bike riding, I heartily indulged, and packed on a few extra pounds in the two weeks since the Beartooth Brevet.
So maybe I'll give myself a break, continue training for a few more days with shorter-faster rides on rolling hills like the PBP route features and then see what happens. I will have 84 hours to finish PBP. If I keep moving I'll do it. I'll do my sleeping afterwards.