More Photos
HERE
. Results
HERE
.
Though other regions in the country are riding their 400K's and 600K's, we in Montana are just getting started with our 200K. And most of us don't have a lot of miles built up yet. So even though the first 200K has traditionally been on a fairly easy route, and the distance isn't too great, there's quite a bit of suffering as we build up our base miles. Such was the case for the Pintler 200K brevet on May 3, 2014. Ken Billingsley was present once again, and dealing with a sore knee, Karel Stroethoff was also there, of course, but dealing with a lack of miles and sleep deprivation. We were also joined by two guys new to the sport of randonneuring but certainly not new to cycling in Rick Dendinger of Helena and Stu Schopp of Bozeman. I've ridden with Rick and Stu many times on Gallatin Valley Bicycle Club rides-both are strong cyclists. I was really excited to have them along.
We started out from Fairmont Hot Springs a few minutes late. I was fumbling with the paperwork and trying to get myself ready. No big deal, as we waited to leave the weather got a little warmer. It was probably near 50 when we set off.
While riding through the gritty streets of Anaconda I felt the tell-tale bounce from my back tire. Dang! I was to have our first (and only) flat of the day-and on a new tire too! The culprit was a tiny arrowhead shaped shard of rock. Glad I found the definitive cause right away-so I didn't have to worry so much about reflatting. In the meantime, I was warming up even more so I also pealed off a layer.
The ride up MT-1 to Georgetown Lake was wonderful. The climb was a workout, but not overwhelmingly so, and traffic was almost non-existent. We were all surprised to get to Silver Lake and Georgetown Lake so soon-surely there had to be another incline before we made it to the top? Nope-soon were at the dam and following Flint Creek down a twisty curvy descent. It was great fun. We met Stu near the bottom. He had ridden away from us going up and he decided to ride a mile or two the other way just to see what the grade was like...strong guy-that Stu!. We were all together at the first checkpoint in Philipsburg. A 6 pack of mini-donuts and a pepsi did the trick for me. The other guys all found their version of healthy goodness as well and we were on our way.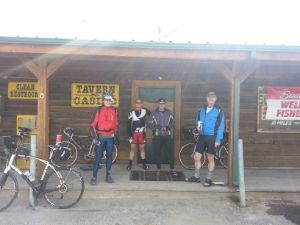 It's all downhill from P-burg to Drummond and on brand-new pave to boot! But there was a north wind in our faces to make things not-so-easy. We were sure that same wind would be an asset after Drummond. I was feeling especially good, got myself in a nice rhythm, and chugged along-knowing I would pay for the effort later, but also knowing I needed the training. Rick, Stu, and I got to Fic's Conoco at Drummond and got ourselves some polish dogs-yummy! Ken and then Karel joined us a few minutes later.
The rest of the ride has a slight elevation gain as we go against the Clark Fork River, but for all intents and purposes, it's flat. Most of the route is on I-90 frontage roads, with two brief stretches on I-90.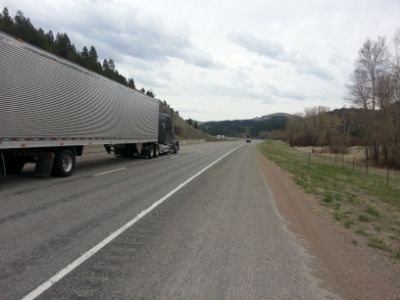 We had a cross tailwind out of Drummond for about 4 or 5 miles and then either wind changed or the course direction changed and we were fighting it. It wasn't a super strong wind, but it zapped us pretty good...all of us except Stu, who did his best to ride slow. I could tell he really needed to go faster. Sometimes it's really hard to ride slow-even to the point of uncomfortable. So I didn't blame him when Stu put the hammer down after Phosphate. He'd finish about an hour ahead of us. Rick and I put our heads down into the wind. We were slowed down to 10 mph through Garrison Junction. But then something magical happened. The course turned into a southerly direction entering the Deer Lodge Valley and just when it almost stopped being fun-we had a blessed tailwind. A tailwind that would push us all the way to the finish line.
We were pretty spread out going into Deer Lodge, but pretty soon Ken and then Karel joined Rick and me at the downtown Town Pump for an extended break. All were feeling it by this time. The final leg from Deer Lodge to Fairmont was physically easy, especially with the tailwind, but aching rear-ends, arms, and legs made it tough enough. We were all glad to be done for sure.
Congrats to Rick and Stu for finishing their first brevets and earning the lifelong title of randonneur. The route was wonderful-and just what we needed to build up our base miles. Our next ride, a
300K brevet
will be on May 24 out of Laurel on the other side of the state. More climbing in that one...and hopefully we'll be in better shape for it.